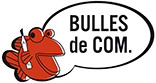 Bulles de Com. is an audiovisual production company and graphic design studio
specialized in manufacturing 2D and 3D animated series.

Bulles de Com. also applies its know-how in the areas of gaming, visual communication
(Institutional films) and video clips.

Founded by Florent Heitz in 2003, Bulles de Com. became a studio of reference in graphic
pre-production for the series Alien Bazar, Casper's Scare School, Code Lyoko, Geronimo
Stilton (Moonscoop), Lassie (DQ Entertainment), Grenadine et Mentalo (Patoon Animation).

In 2010, Bulles de Com. was the animation studio selected by Dupuis Audiovisuel to produce
26 episodes of their series Little Spirou, How to Survive....

In 2012, Zagtoon selected Bulles de Com. to be line producer on 104 episodes of the series
Kobushi.

Bulles de Com. is currently developing several cartoon-style animated series: Tiki Tam Tam,
Man Malagane, Josette and Raoul, and Invasion Academy.